Happy Pride!
June 1st is right around the corner, which means we are officially entering LGBTQ+ Pride Month! Here at Stonewall Baltimore, we've been cooking up SO many exciting events and ways to bring our community together, and we could not be more excited to celebrate all month long with you all. So, without further ado, we present to you the OFFICIAL 2023 Stonewall Baltimore Pride Guide!
Stonewall Pride Kickoff: Kickball Tournament & Banquet 🏳️‍🌈🏆
Sunday, June 4th: Games from 11am-5pm, Banquet from 2pm-LATE
Roosevelt Park & The Baltimore Eagle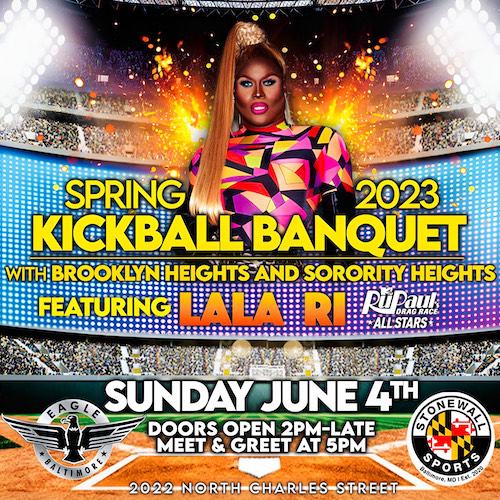 Join us on June 4th as we kick off the Stonewall Pride celebrations with an exhilarating Kickball Tournament & Banquet. Games kick-off an hour early, running from 11am to 4pm with both the competitive and social Championship games running at 4pm. Doors for our Kickball Banquet at the Baltimore Eagle open at 2pm, allowing ample time to mingle and have some fun. We have a very special appearance from RuPaul's Drag Race Queen Lala Ri, with a free meet and greet starting at 5pm, our awards ceremony at 6pm, and performances starting at 6:30pm.
This event is not just about celebrating this fantastic season; it's also an opportunity to make a difference. All fundraising proceeds from the event will go towards supporting our valued philanthropic partners. Don't forget to participate in the Silent Auction, offering fantastic items up for grabs. So, mark your calendars and come ready to contribute to a worthy cause. We can't wait to see you there!
Sip & Slay: Sunday Funday at Guilford Hall 🥂
Sunday, June 18th from 11am-4pm
$10 for Upstairs Admission, $20 for Trivia
*A La Carte Brunch and $15 Bottomless Mimosas not included.*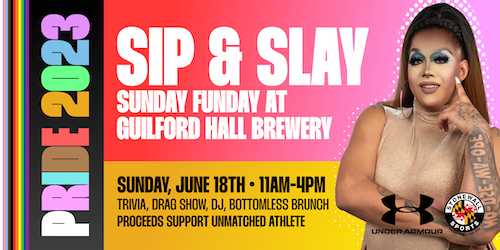 Join us at Guilford Hall for an epic Pride kickoff event: "Sip and Slay" sponsored by Under Armour on June 18th from 11am to 4pm! Indulge in brunch a la carte, bottomless mimosas available at just $15, and our signature Pride cocktail and shots that will benefit our philanthropic partner, Unmatched Athlete. Challenge your knowledge with our exciting Pride-themed trivia extravaganza hosted by our Trivia Director, Mark Miagza. At halftime, we'll have an awesome show featuring Stonewall's own, Washington Heights. And after the trivia winners are announced, hit the dance floor and groove to the beats of DJ Sidekick.
Bring your friends and family and be ready for a day of laughter, love, and celebration. Tickets will be supporting Unmatched Athlete, starting at $10 to attend the event and $20 if you would like to play trivia (does not include food or drink). Trivia tickets are limited, so secure yours early to guarantee your spot at this unforgettable Pride event.

Ridin' The Rail: Baltimore Pride at the B&O 🚂🏳️‍🌈
Friday, June 23rd, 2023 at 6:30pm-12am
🚨 Early bird pricing ends May 28th! 🚨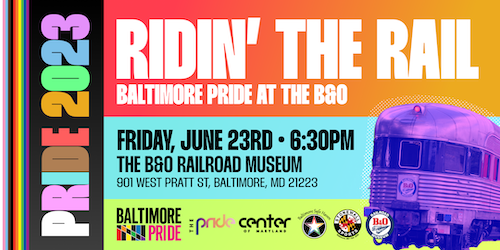 We're hosting the OFFICIAL Friday night Baltimore Pride party this year! Hop aboard the Pride Train Ride with one-of-a-kind drag performances, followed by an epic Baltimore Pride Party filled with music, food, and drinks under the stars surrounded by trains - it's the ultimate Pride celebration at the B&O Railroad Museum. Early bird tickets are available NOW, but pricing will be increasing on May 28th... you won't want to miss this epic event at the lowest price!

Baltimore Pride Parade & Block Party 🏳️‍🌈
Saturday, June 24th, 2023
Parade from 1pm-3pm, Block Party from 3pm-9pm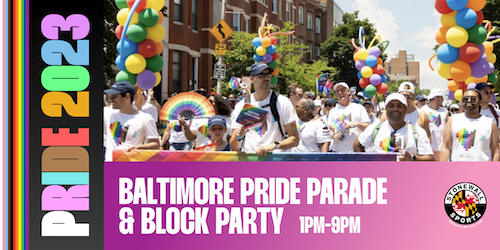 Stonewall Baltimore will be walking in the Baltimore Pride Parade! If you would like to join us, we'd love to have you join for the fun. We'll give you a Stonewall shirt if you would like, and we'll be handing out goodies and waving to the crowd all along the route!

After the parade, we'll have a table promoting Stonewall Baltimore at the block party. We'll be passing out free swag, bumping music, and getting people excited for all that's to come in late summer and fall! We'd love for anyone that would like to join us to help promote our amazing league. Sign up to join us for both the parade and the block party below!

LGBTQ+ Pride Night at the Baltimore Orioles 🏳️‍🌈
Wednesday, June 28th, 2023
$40 Ticket, $55 with Pride Hat
🚨 Ticket sales end on May 28th! 🚨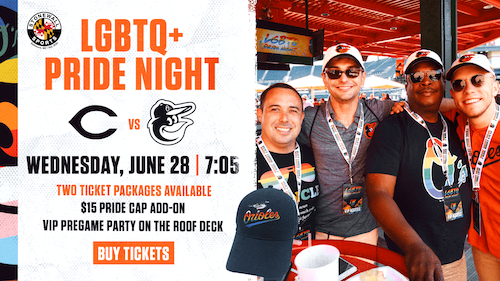 We're going to the O's game for the LGBTQ+ Pride Night! You can buy tickets for our block at the link in our bio. For $40, you'll get a great seat with the entire Stonewall Baltimore cohort, and for $15 extra you can get an Orioles Pride hat. You'll be able to get tickets starting now until May 28th. Go O's!

Pride Finale at Urban Axes 🏳️‍🌈
Friday, June 30th, 2023, 7pm-10pm
$50 All-Inclusive Ticket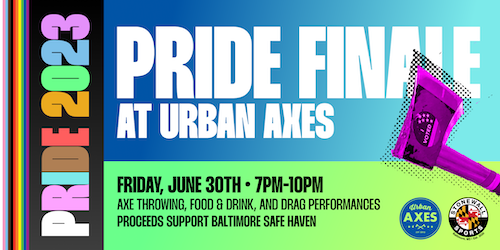 Get ready to have a blast at our Pride Finale at Urban Axes! Join us on June 30th from 7pm to 10pm at Urban Axes for an epic night of axe throwing, drag performances, tasty food, and cool drinks. Hosted by Sorority Heights, your ticket will include food & drink, axe throwing (training will be available), and drag performances. Plus, we're raising money for our philanthropy partner, Baltimore Safe Haven. Stay tuned for more deets and ticket releases coming soon. Don't miss out on this awesome epic finale to pride month!
We truly could not be more excited about all that's coming in the month of June. Please email baltimore.marketing@stonewallsports.org if you have any questions whatsoever. We'll see you at Baltimore Pride!